7 Places to Find Great Free (or Cheap) Graphics: A Guide for the Non-Designer
Visuals matter. Sometimes even more than words. (Speaking as a writer, this fact can be painful to admit.) But alas, it's true. Facebook posts with images have 2.3X more engagement. Tweets with images receive 150% more retweets. Articles with images and graphics get 94% more total views.
So whatever it is you're writing, you're going to want to include some great images with it.
If you aren't a designer, this can be rough. Chances are you don't have a portfolio of fantastic photos and graphics to choose from. Chances are also fair that you don't have a whole lot of budget, either—so you'll be looking for something free (or nearly free) to use with your amazing copy.
To make things worse, searching for anything free online can lead you into a tangle of spammy click-bait sites. And you don't just want any cheap clip-art, anyway. You want something that's actually going to complement and enhance the piece you've written—whether it is a social media post, blog article, email or even something you plan to print.
So where do you go?
No need to stress! Turns out there are a bunch of really good sites out there now, that are likely to have everything you need for free—or for a very low price or donation. Let's run through seven of them that we really like, and then at the end we'll give you a few tips for navigating the Creative Commons and Google Images sites, too.
I'm craving toast with honey this morning, so I'm going to pretend I'm writing a post on honeybees and look for a good photo for that. (Apologies in advance to anyone with a bee aversion or a pollen allergy!)
Pexels is the free images site you have most likely already heard of. But that's cause it's a pretty good one. No attribution is required for the images and they are free for commercial use or modification. Pexels has a fairly robust selection of images. Below them they will try to upsell you fancier images from Shutterstock, their partner company, that you can purchase. Pexels does accept Paypal donations for their own expenses, as well. They are a reliable site for decent images, if not always exactly what you had in mind. Here's what I found there: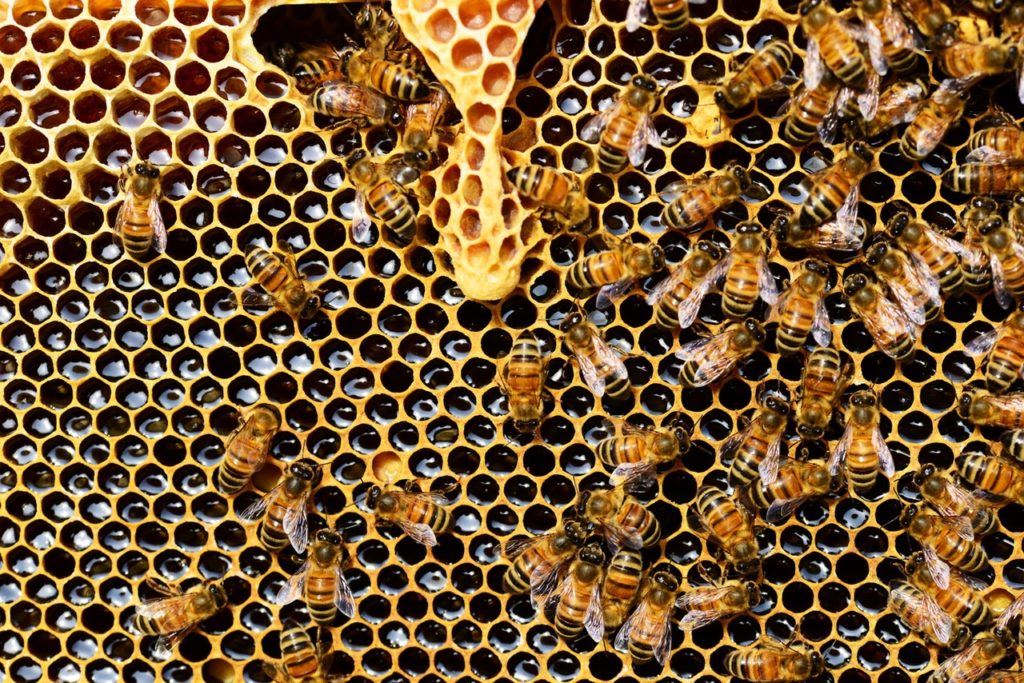 Pixabay is another Creative Commons site with a big library of excellent images that don't require attribution or fees.  Like Pexels, it also cross-sells images from partner sites like Shutterstock that you might want to pay for. You can download Pixabay images without signing in, though you'll need to complete a quick CAPTCHA block.  As you buy Pixabay offers you a subtle opportunity to donate via Paypal on their site, to help fund their operations. (This image was taken by Maolin, who interestingly also took some of the bee images I saw on pay sites.)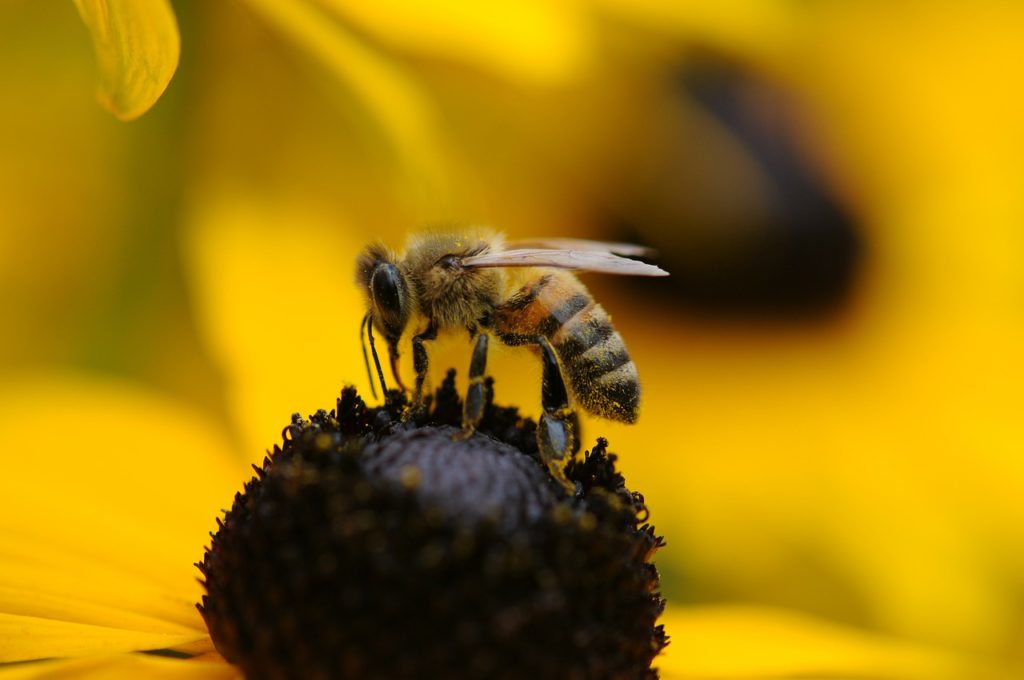 unSplash is sort of untruth in advertising, because it is indeed a very splashy site, with really beautiful imagery—largely taken by pro photographers. Crediting is not necessary, but is encouraged, and they give you text and html to include on your site if you wish. There is no choice of resolution when you download, but the resolutions are generally high enough for print and included in the info for each image, along with a bunch of techy photo info about how it was shot. The photo below was downloaded at 3234 x 4312.  I'm crediting the photographer here  because this site is just so awesome.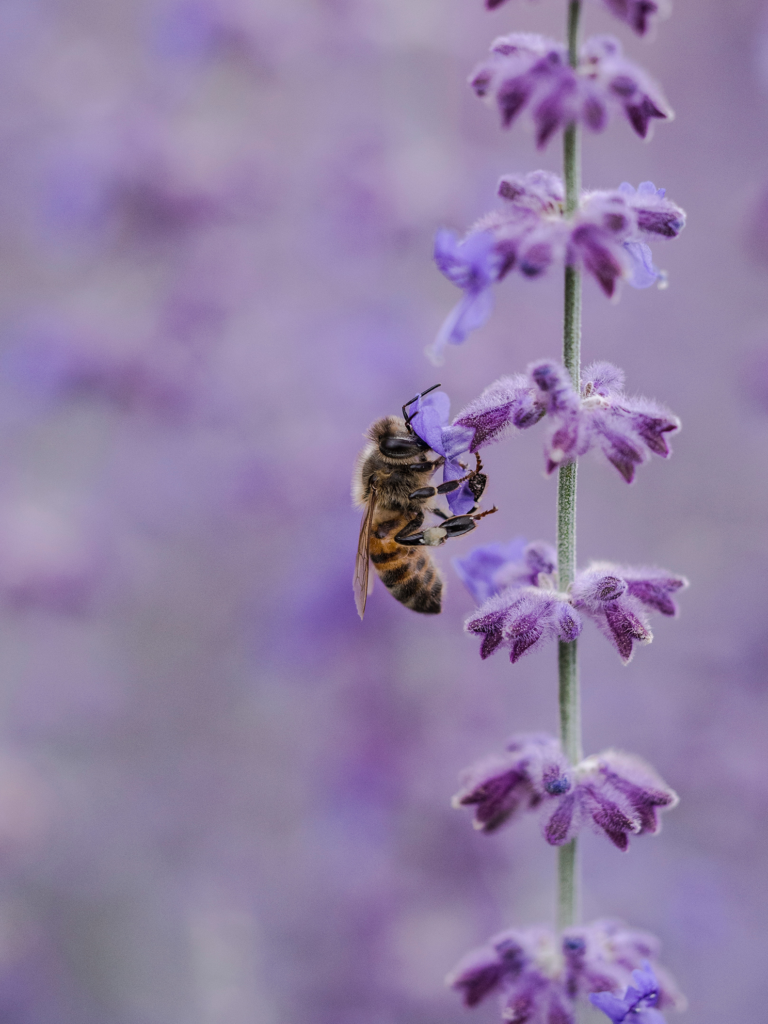 Photo by Aaron Burden on Unsplash
iStock Photo isn't free. But unlike in days gone by, when stock imagery required an arm, leg or a lease on your ovary, these professional images have gotten remarkably easy to afford. iStock, part of the Getty Images group, works on a model where you buy credits, and images can cost between 1-3 credits ($8-$11, depending how many credits you buy at once) each. You can select which library to choose from out of the gate if you want to stick with the cheaper images.  iStock's images are always high quality, and you don't have to credit them. Crediting can sometimes be difficult or mess up a design a bit, so it's nice to have this option. Their search function is a lot more sophisticated, so you can search by orientation and other keywords. They also seem to have a bigger selection of images on white (which can be tough to find, elsewhere), like the one here: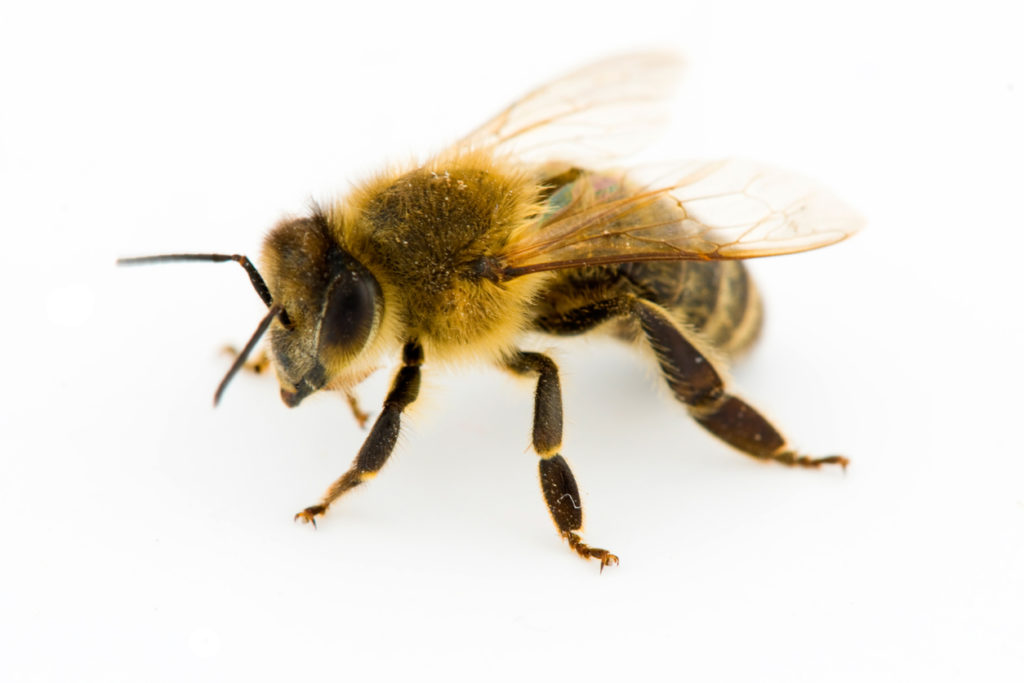 Flickr is a great site for "non-stocky" stock images, because a lot of amateur (but very good) photographers use it. After you first put in your search terms, you'll want to filter by "Commercial use allowed" or, if you plan to crop or overlay text or otherwise mess with the image, choose "Commercial use and mods allowed".
There are many sizes available and you can download without needing an account. Check the rights reservations for info on whether you should credit the photographer and how. The image I chose below requires attribution and a notice if it was altered. (It wasn't.) Each photographer on Flickr is different, so be sure to check their photo page for their unique guidelines. It also doesn't hurt to check their author page, in case they have particular preferences for how to cite them.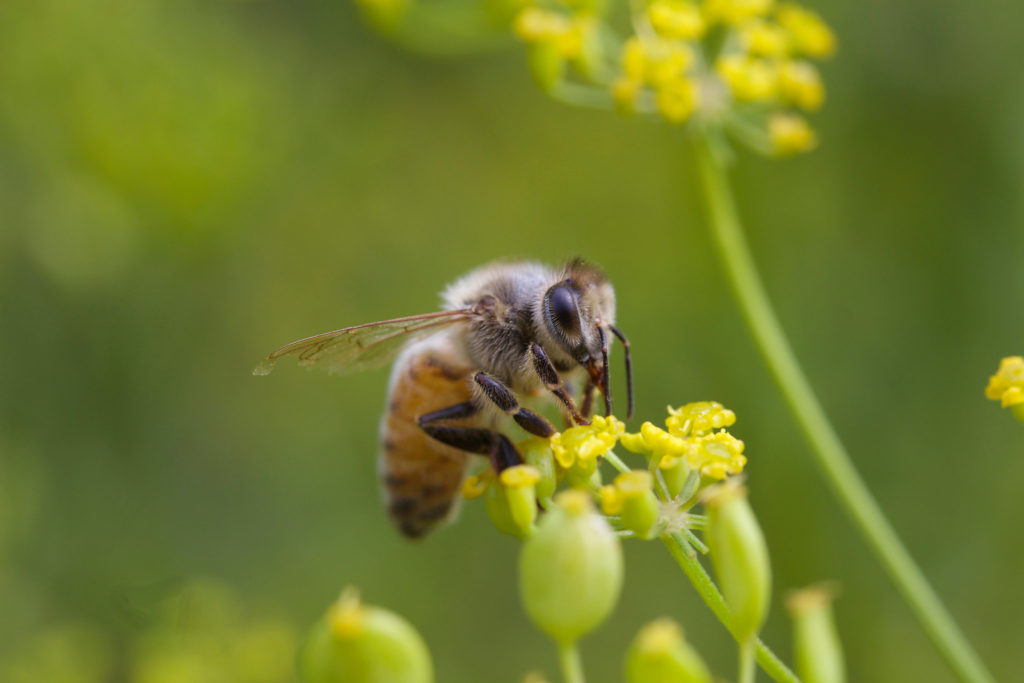 Photo by Keith McDuffy on Flickr
Wikimedia Commons gives you access to images that have been uploaded to Wikipedia and are under Creative Commons license. This can be helpful when you need something very specific—like a photo of some famous dead person—but it isn't going to give you a ton of images the way some of these other sources do. When you get to the home page, select IMAGES from the navigation bar, then type your search term into the search bar on the top left. If you see an image you like, click it, and then click the download button on the bottom left. This will pop up some size choices and also give you information on attribution requirements that will be easy to cut and paste, in plain text or in html. Be sure you follow any attribution guidelines you see there. This was the only image that surfaced clearly, when I typed in "honeybees".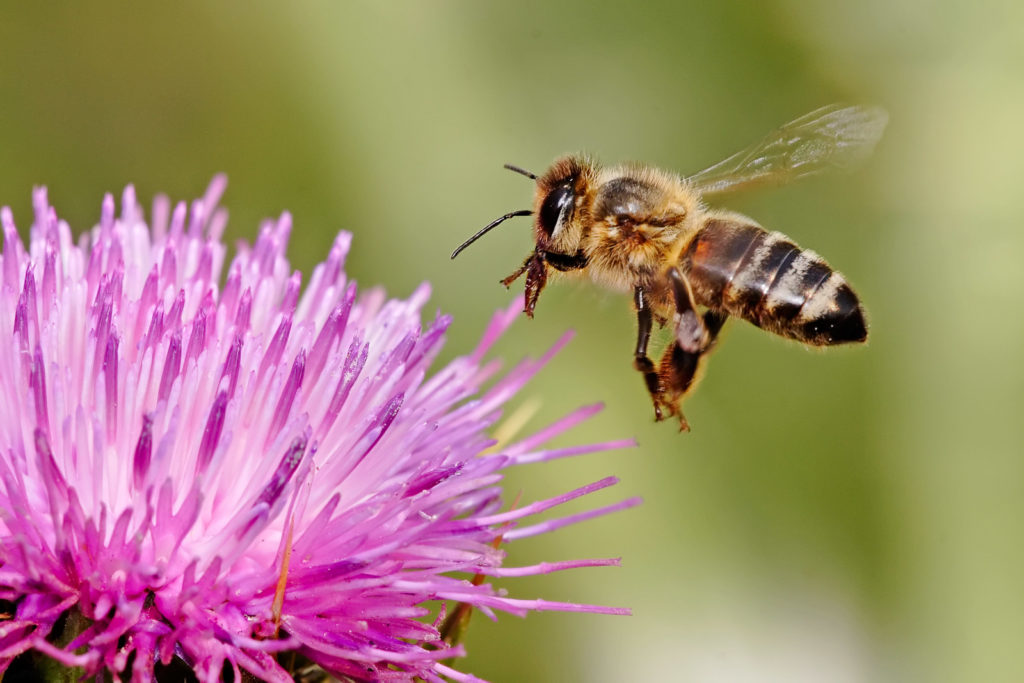 By Fir0002 – Own work, GFDL 1.2
The Noun Project isn't just a great website for finding small line drawings and icons. It is a site that can actually help you to think.  I use it a lot when I'm trying to puzzle through visual metaphors for infographics or taxonomy. It's primarily useful for icons, though. You do need to make a free account to download images, but that literally takes 10 seconds and doesn't require any personal or financial info. Some of the images on NP are in the public domain, like the one below, but many are not. These will give you a choice between crediting the artist (the credit will be incorporated into the image), or creating a Noun Project account, where you can download an unlimited number of images you don't have to credit. These come in  SVG or PNG, and a subscription can be monthly ($9.99) or annual ($39.99.) It's totally worth it, and even cheaper for education. Noun Project also has team pricing available.  Their icons range from fun to serious, and often come in sets, which is super helpful if you're creating a symbol taxonomy.

So there you have our seven faves.
But I promised to tell you a little more about Creative Commons and Google images, so let's cover that real fast, too! They can both be very handy.
One really quick way to look for free images all at once, is to use the Creative  Commons website, where Flickr, Wikimedia Commons, Google Images and many others have combined forces to provide one handy source for all images under Creative Commons licenses.
What is Creative Commons? Glad you asked. It's when visual artists, photographers and even video and audio artists have put their work out into the public domain to be used freely. It doesn't mean that use is entirely without restriction though, so you have to be careful to check each image you plan to use or alter.
The CC site itself is pretty simple: you put your search term in, select a source and you'll immediately be taken to that partner-site, where CC will have done the search for you, and will display the results automatically.  Just be sure to check the box for commercial use before you go!
If you pick Google Images, you'll even get some of the other image sites I listed above, so this can be one of the quickest ways to see everything at once. I didn't include Google Images in my list above, because it can be too easy to accidentally use a copyrighted image.
If you choose to use Google Images, you can type your search into Google.com and choose the IMAGES tab, or go directly to Google>Images. Just be sure you're only using images marked as "free to use or share, even commercially." In your results, go into Advanced Search and click the dropdown to filter for usage rights.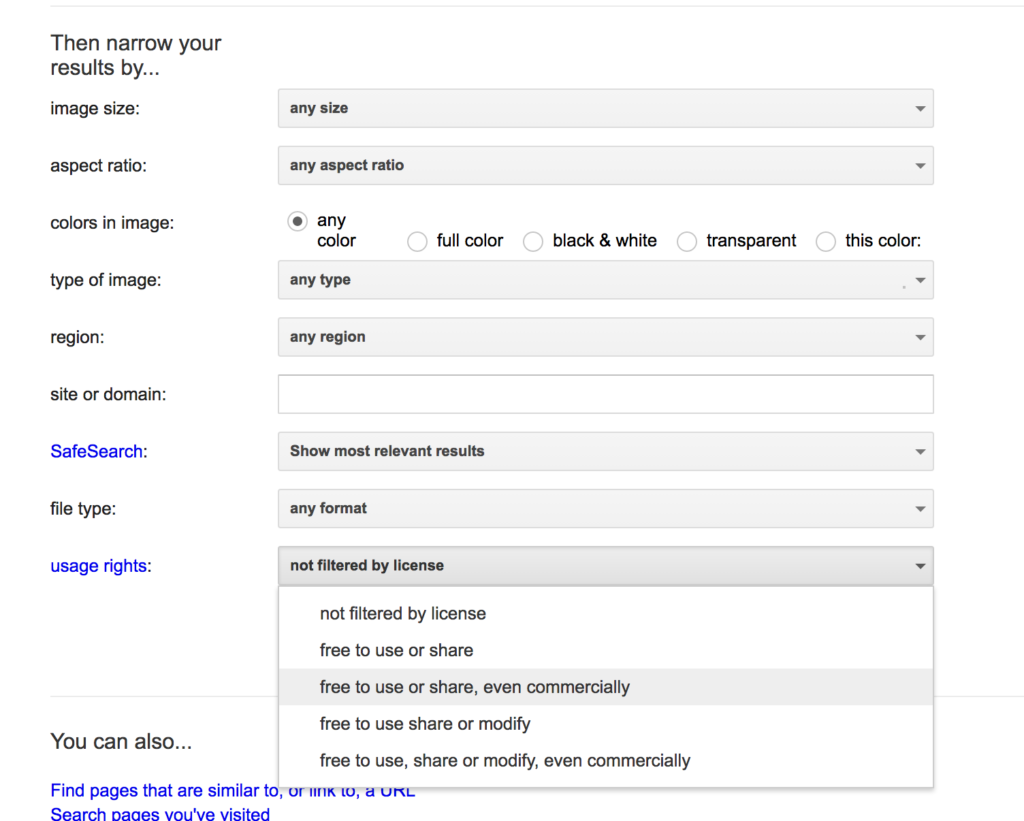 You should end up with some choices like this: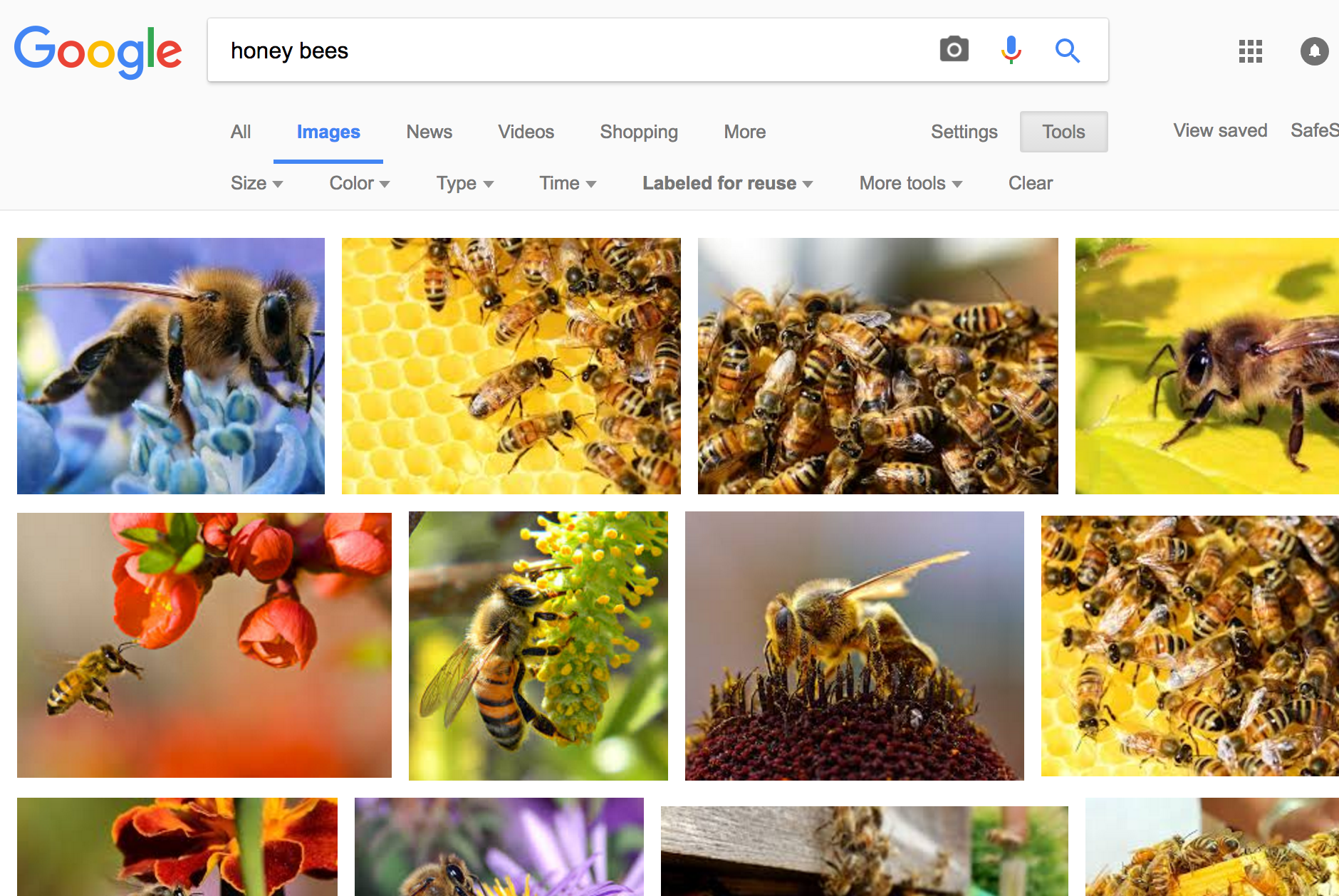 Next click on the actual image you like, and go to that site and learn more about any required attribution. If the image is just an image someone else used on their site, I'd be wary. Google doesn't audit their images as closely as other sites, so if someone uploads images they don't own, and sets no license, and then you use them, you could be on the hook.
I'll just finish up here by saying that while most of these sites are free, it's still important to support artists and photographers.
If you find yourself using stock art regularly, most of them have a place to donate, and I recommend throwing them a few bucks, now and again, just to be sure they can survive and continue to provide us all with great images! I donated a few dollars through Paypal to each of the free sites above when I made this post. A few bucks certainly isn't going to break anyone's bank.
Do you have any favorite free image sites you use? Please share them in the comments.
Happy image hunting!